Cancer virotherapy has high potential in China
As one of the highest achievements of Latvia with high export potential to China, cancer virotherapy was mentioned during the "16+1 Summit" held in Riga last week.
Chinese Premier Li Keqiang addressed the Sixth China and Central and Eastern European (CEE) Countries Economic and Trade Forum in Riga. Latvia has been entrusted with the organisation of key events in cooperation between Central and Eastern European countries and China – the "16+1 Summit" and related side events – a business forum, a national coordinators' meeting, a seminar of think tanks – as well as the first 16+1 Transport Ministers' meeting.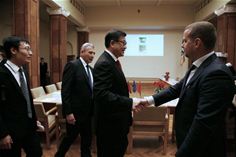 Agreement between Latvian Academy of Sciences and Academy of Social Sciences of the People's Republic of China
The 16+1 format is an initiative by the People's Republic of China aimed at intensifying and expanding cooperation with 11 EU Member States and 5 Balkan countries (Albania, Bosnia and Herzegovina, Bulgaria, Croatia, the Czech Republic, Estonia, Hungary, Latvia, Lithuania, Montenegro, Poland, Romania, Serbia, Slovakia, Slovenia, Macedonia) in the fields of investments, transport, finance, science, education, and culture. In the framework of the initiative, China has defined three potential priority areas for economic cooperation: infrastructure, high technologies, and green technologies.
Cancer virotherapy is a cancer treatment using a virus that finds and destroys malignant cells in the human body. This kind of cancer treatment, also called oncolytic virotherapy, is evidence based and recognised as safe and effective therapy. A study published by Melanoma research suggests that a significant number of melanoma patients would benefit from prolonging the survival with oncolytic virotherapy treatment, moreover this can be achieved without serious side effects.
The first cancer virotherapy medicine was approved for melanoma treatment in 2004 by State Agency of Medicines of Latvia, EU member state. This year cancer virotherapy medicine received the grant from European Commission in order to initiate the commercialization in the EU markets. Cancer virotherapy medicine is manufactured, developed and promoted wordwide by Rigvir holding.
More information:
Valdis Točs
Head of Marketing
Rigvir holding
Teatra 9, Riga,
LV-1050, Latvia
+371 26 15 96 66
valdis@rigvir.org